Teacher hit by airgun pellet at school in Exeter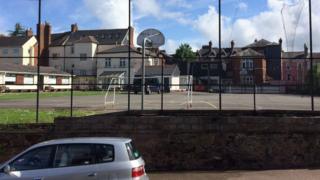 A teacher has been hit with an airgun pellet in front of children in a school playground.
The woman, who works at St Wilfrid's School in Exeter, was hit in the chest when the projectile ricocheted off a board.
It was fired from outside the grounds during a PE lesson on Tuesday at the independent prep school.
Police said they would speak to residents of about 30 bedsits or flats which overlook the playground.
The teacher was given medical attention, but not seriously injured, the school said.
More on this story and others from Devon
About eight children, aged seven to nine, were in the playground when it happened at about 14:00 BST.
All were taken to safety inside the school and none were hurt.
Playground out of bounds
St Wilfrid's said the playground had been placed out of bounds, and children were being kept away from the area, but that lessons and exams were continuing as normal.
Ross Bovingdon, head teacher designate at at Wilfrid's, said: "The pellet hit the backboard and rebounded onto the teacher.
"The teacher reacted straight away and ordered the children inside and alerted the police straight away.
"Our main priority was making everyone safe."
One parent said: "I'm very shocked about what's happened. A child could easily have been blinded."
Devon and Cornwall Police said they would carry out additional police patrols around the area to reassure the local community.