Green Party candidate suspended for endorsing Labour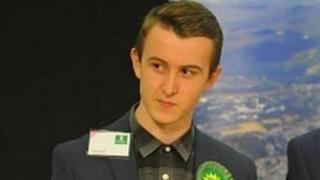 A Green Party general election candidate has been suspended for openly encouraging people to vote Labour.
Josh Pope, 19, who is standing in the Plymouth Moor View constituency, said he is "disappointed but not surprised" by the decision.
It follows a blog post endorsing his Labour rival which expressed his desire "to put Jeremy Corbyn into Downing Street".
Conservative candidate Johnny Mercer branded the episode a "farce".
More on Green party suspension and other Devon and Cornwall stories
Mr Pope raised £110 through a crowdfunding page to help finance his campaign.
In a blog post he advised people to vote for Labour candidate Sue Dann "who has the best chance of beating the Conservatives and helping to create a more balanced Parliament".
'Shambles'
Mr Mercer, who won the seat in 2015, added: "I did believe that Josh had done a brave thing and put himself down for election on the basis of his values and his party's.
"Maybe he hasn't worked that out yet and he is still young, but I think this decision is a bit of a shambles."
A spokesman for the Green Party confirmed Mr Pope "has been suspended from the Green Party in line with our constitution and normal procedures. His name will still appear on ballot papers".
Responding to his suspension, Mr Pope said: "I may have broken some rules but sometimes you just have to do the most important thing, and that in this case was trying to help ensure another progressive voice into government."