Devon girl's groomer who hid axe in car jailed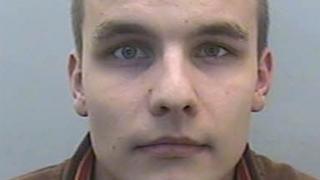 A man who had an axe in his car in which he arranged to meet a 14-year-old girl for sex, has been jailed.
Patrick Brezovsky had arranged to meet the girl at Exeter bus station after sending her Facebook messages, but was intercepted by police.
The 23-year-old parking attendant, of Canon Way, Exeter also had a balaclava, duct tape, ladies tights and CS spray in the car, Exeter Crown Court heard.
He admitted six offences and was jailed for four-and-a-half years.
Brezovsky pleaded guilty to meeting a child after grooming and five offences of possessing bladed articles or prohibited weapons.
The court heard how he made contact with the girl on 24 November through Facebook.
She told him she was bullied, depressed and self-harming, but he flattered her and arranged to meet her that night for sex.
'Walter Mitty fantasy'
She took a bus to Exeter but a school friend told her mother, and the bus was intercepted by police, who were alerted to what was happening.
Brezovsky was also arrested at a nearby car park.
Along with the other items, there were also two condoms on the central console in the car, and a blue flashing light which could be put on the dashboard to make it look as if he was connected to the emergency services.
The judge, Recorder Mr Ignatius Hughes, QC, told him in sentencing: "The presence of the items in the car at the very least suggests some form of Walter Mitty fantasy although it is impossible to know precisely what you had in mind.
"I have no doubt you pose a serious and significant risk of causing serious harm to the public, and in particular to young women by further offending."