Care home victim abused at two homes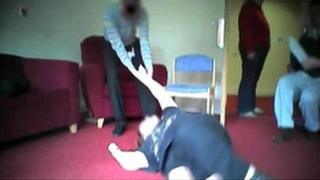 A victim of "organised and systemic" abuse at a care home was sent there after being abused at another home.
Staff members at two Devon care homes for adults with learning disabilities were convicted on Wednesday.
Ben, 25, a resident at Vielstone, one of the two homes, had been transferred there after being abused at the Winterbourne View home, his family say.
His mother Claire Garrod said he described being "kicked, punched, stripped naked, water poured on him".
This came after Ben, who has autism, "had his jaw fractured and lost teeth after a nurse punched or kicked him in the face" while he was at Winterbourne View, near Bristol, Mrs Garrod said.
More on this story and other Devon news
'Expecting Hannibal Lecter'
Eleven Winterbourne View workers were convicted in 2012 of charges of neglect or abuse of patients.
Mrs Garrod said she contacted police after Ben told her about his treatment at Vielstone near Bideford, in Devon, six months after he had left Winterbourne View.
"They think these people haven't got a voice, but actually he can tell anything he wants when he feels safe," she told the BBC's Today programme.
"It was awful he told me how he'd been treated... cold, hungry some times, scared, very scared it just broke my heart."
She said the emergency placement Ben was given when Vielstone closed, amid the allegations of abuse, was "expecting Hannibal Lecter, [based on] how he'd been portrayed on paperwork".
"When they got him they had to question if they'd got the right person because he was just very happy."
Ben's sister Emma Garrod said: "In terms of his autism he can be fairly noisy at times, but it also means he has some behaviours described as challenging."
Asked if she had lost trust in the care system Claire Garrod said: "We would have done, but Ben is with a very good provider and we're working together.
"We never thought we'd get the Ben we had before Winterbourne back, but slowly he is coming back so a good provider has given us faith."