Man arrested after seven vehicle crash in Plymouth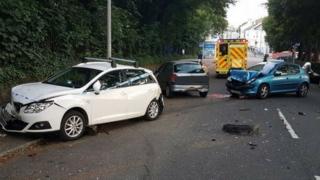 A driver has been arrested after a crash involving seven vehicles on a residential street in Plymouth.
Devon and Cornwall Police said the car was travelling at speed when it hit a wall and six parked vehicles, causing extensive damage.
The man failed a roadside breath test in the early hours of Sunday morning.
Three people were taken to Derriford Hospital in the city just before 05:00 BST, with injuries not thought to be serious.
Eldad Hill was closed for some time, but reopened at around 07:00 BST.
The accident was reported by Devon and Cornwall Police's 'No Excuse' Twitter account.
It tweeted: "7 vehicle RTC somehow not serious injuries, luckily all wearing seatbelt which saved their lives. Only 1 vehicle was moving, guess which 1?"
The account aims to improve road safety in Devon, Cornwall and Dorset by following seven special constables and two PCs who highlight the 'Fatal Five' factors that cause serious road accidents.
One of the 'Fatal Five' is 'Driving under the influence of alcohol or drugs'.
The other four are excess or inappropriate speed, failure to wear seatbelts, drivers using a hand-held mobile phone and careless and inconsiderate driving.