Devon chapel joins 'queer histories' sites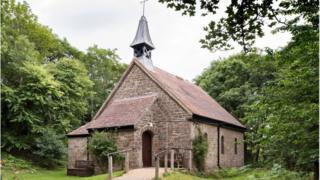 A chapel has been listed as one of England's "places with queer histories".
Historic England has named the Chapel of St Anne in Saunton, Devon, because of its stained glass window created by lesbian Mary Lowndes.
Lowndes was well known for her designs of suffragette posters and banners.
Historic England has also relisted 14 places in light of their newly-discovered significance to LGBT history.
They include the Sussex home of artist Hannah Gluckstein, a property lived in by the poet and novelist Vita Sackville-West.
A Devon seaside hut, called The Cabin at Bucks Mill, and used by two lesbian artists, has also been newly listed alongside the chapel.
Heritage Minister John Glen said the listings "reflect on the history and challenges faced by LGBT communities".
Michael Hall of the Intercom Trust, an LGBT organisation in the South West, said: "I had not come across these two places.
"But it shows how they are coming to the fore and there is much more to done because the South West has a massive LGBT history.
"I would like to see more places listed to celebrate the difference and ordinariness of LGBT people."
The new additions follow research by historians at Leeds Beckett University's Centre for Culture and the Arts for the Pride of Place project.
The Chapel of St Anne
It was designed by the architect Frederick James Commin and built in 1898.
One of its stained glass windows was created by the artist Mary Lowndes in 1906, at the height of her career.
She founded Lowndes and Drury, the partnership with Alfred Drury that built The Glass House stained glass studio in Fulham.
Unusually for a woman at this time, Lowndes lived an independent life and was a successful entrepreneur in London where she lived with her partner, Barbara Forbes, a fellow suffragette.
The Cabin
It was a studio and summer cottage shared by the artists Judith Ackland and Mary Stella Edwards and sits on the cliff above Bideford Bay.
The women met as students in London, and fell in love. They travelled extensively throughout the country, painting and selling their work but The Cabin - a former 19th Century fisherman's store - became their studio and retreat from 1924.
After Judith's death in 1971, Edwards closed The Cabin and did not return. It has been left unchanged.