WW1 heroine's name to be removed from Dartmoor memorial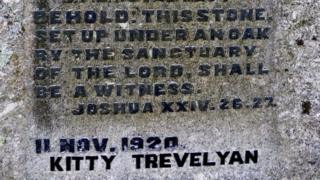 An inscription of a World War One heroine's name on a memorial is to be removed after it broke planning laws.
The name of Kitty Trevelyan, who left her Dartmoor home aged 17 to join the war, was added to the memorial at Meavy in February.
But Dartmoor National Park Authority (DNPA) said it was the wrong font, "not very sympathetic", and no permission had been given.
There are plans to rectify the error by adding her name in a correct typeface.
More on the planning row and other Devon news
Kitty Trevelyan served with Army Service Corps and was buried in France in 1917 after she died from illness.
Her name was added after a campaign to include women's names on war memorials.
Sue Robinson of Wenches in Trenches, which campaigned for the inscription, said: "We did everything we should have and put notices up and the parish council gave us the go ahead.
"I'm annoyed but rules are rules and we have to abide by them."
DNPA said the inscription required planning permission because the memorial was a scheduled ancient monument.
It said in a statement that Burrator Parish Council "went ahead and added the name... without letting us or the War Memorials Trust know of their intention, or it would appear consulting the local residents or family members".
Sam Hill from DNPA said: "We will probably ask for it to be removed in the way it is, but not until we have decided what we will do instead.
"That could mean redoing it with the right permission or carving her name on a small stone at the base of the memorial and we might be able to provide some funding for that."
The parish council could not be reached for a comment but said in a statement on its Facebook page: "Hope is emerging that a compromise can be found" and councillors have "pledged to help".