Man denies murdering ex soldier and dumping body in bin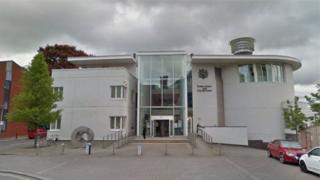 A housing association tenant has denied killing a former soldier and trying to dispose of his body in a wheelie bin.
Brett Edwards, 38, of Okehampton Road, is accused of murdering James Woodhouse at his flat in the same road in Exeter.
His body was found dumped in a bin inside the flat in November 2016.
Mr Edwards told Exeter Crown Court he never saw the body and blamed co-defendant Thomas Killen, 33, of North Lawn Court, for the killing. Both men deny murder.
More on wheelie bin murder and more Devon stories
Mr Edwards said he had no memory of stealing a wheelie bin and taking it to the flat on 20 November.
He told the jury he only realised he had taken it when he saw the CCTV images played in court.
Due to being under the influence of heroin and valium he said he could not remember why he took the bin.
Mr Woodhouse, a former soldier who had worked in charity fundraising, was a drug user who was homeless in Exeter.
The prosecution allege he died as a result of a beating handed out over a £700 drug debt on 11 November, and that both Mr Edwards and Mr Killen were involved.
The former soldier's body was found more than a week later, by which time he had been swathed in a duvet and partially moved into a wheelie bin lying on the floor.
The trial continues.