'Assassination' threat to former Plymouth MP Oliver Colvile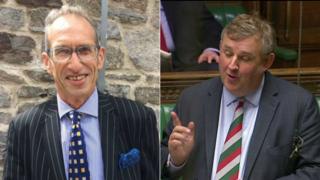 A Labour supporter told a Conservative general election candidate that "assassination was too good for him" and told him to jump off a high bridge.
Julian Isaacs, 59, admitted sending threatening Facebook messages to former MP Oliver Colvile in May at Plymouth Magistrates Court.
Afterwards Mr Colvile slammed the sentence of 80 hours community service.
Isaacs was also ordered to pay £85 costs and an £85 victim surcharge.
More on MP threatened and other Devon stories
Speaking afterwards, Mr Colvile, who was MP for Plymouth Sutton and Devonport from 2010 until May, criticised the sentence, saying: "It's appalling. It's a form of terrorism.
"He should be sent to prison."
'I did mean it'
The court heard that Isaacs, of Stonehouse, Plymouth, made the comments in response to a post by Mr Colvile on his Facebook page during the election campaign.
In one message he told him to jump off the Tamar Bridge that crosses between Devon and Cornwall.
"I did mean it literally," Isaac said.
"I do not regret anything".
The court heard he told police he had made the posts "in the pub after a couple of beers."
The Exeter University student also told police "feelings were running high" in the run-up to the election and he meant "no harm" to Mr Colvile.
He told officers he is a "pacifist who abhors violence" and it was "a joke that was not funny".
Ministers have announced an inquiry into intimidation of election candidates.