Drunk Sidmouth teen Sam Marriott died after hotel wall fall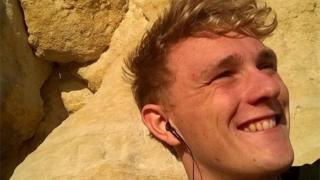 A drunken teenager died after falling from a wall as he took a shortcut home from a night out.
Maths student Sam Marriott, 19, slipped and fell from a hotel wall in Sidmouth, Devon, an inquest heard.
The "fit and strong" lad was twice the legal driving limit for alcohol when he fell on Saturday, 25 February.
He suffered a fatal head wound in the fall. Devon coroner Dr Elizabeth Earland concluded his death was accidental.
Guests at the Sidholme Hotel in the resort said they heard a "loud thud", at 03:30 GMT but Mr Marriott's body was not discovered for two more hours.
More on this story and others from Devon
His mum Debbie Marriott told the inquest at County Hall in Exeter that her son had been his "normal happy self" before he went out to meet friends.
He would often walk home through the hotel grounds because it was a short cut, she said.
But at night the gates were locked and her son may have been on "auto pilot" as he tried to climb over the wall.
Det Sgt Mark Aldershaw said he found "scuff marks" which matched Sam's shoes high up on the hotel wall.
He said: "It seems to me that Sam tried to climb the wall to the hotel while intoxicated in the middle of the night on his route home."
A post-mortem examination revealed he died from a head wound.