GCSE students thank Devon's rapping YouTube teacher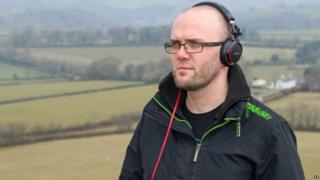 An English teacher who raps lessons on YouTube has received hundreds of messages from GCSE students thanking him for helping them get top grades.
Andrew Bruff, known as Mr Bruff online, from Tavistock, Devon, has been running a channel for five years.
His most popular video was rapping a lesson over Stormzy's grime hit Big For Your Boots.
"Your videos have helped me so much in getting a grade 9 in English lit," said one student on Twitter.
More on this story and other Devon and Cornwall news
Hundreds of others have praised him on social media.
"I am overwhelmed by today's messages of thanks," he said.
The 35-year-old's YouTube channel proved so successful that two years ago he left his teaching role at Lipson Academy in Plymouth.
He now travels the country as a consultant on exam success as well as making a YouTube video almost every day.
His Stormzy rap, which has more than 188,000 views, is the most successful of about 2,500 videos.
"I was having more of an impact online," he said.
"This year I have had seven million views and so I thought it was worth the risk of leaving.
"I've had about a thousand messages from GCSE students and it definitely charges my batteries for next year."
He said rapping, "which I've always loved", helped teaching because "rap is very easy to memorise".
"I can remember pop songs from when I was 11 years old and so putting quotations from novels to music means you can remember it very easily.
"I've always loved hip hop, and am intrigued by how we can memorise song lyrics so easily.
His years in the classroom as an English teacher inspired him to start making YouTube videos to help students, he said, because he didn't think the current education system was "fair".
"It's not fair that the quality of your education depends on your teacher, the area you live in, or whether you have rich parents who can afford expensive revision guides and tutors," he said.
By making thousands of videos and a podcast available for free, he hopes to level the playing field.