Stuck in mud Kingsbridge boat crew rescued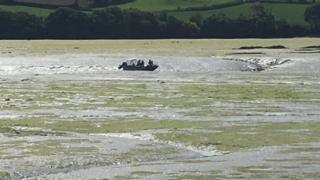 Coastguards have rescued eight people, including a three-year-old girl, stranded on mud flats in Devon.
Teignmouth Coastguard Mud Rescue used a sled to bring the stranded crew ashore when the boat engine failed as the tide was going out near Kingsbridge.
Prawle Point Coastguard Rescue also helped in the sticky operation. The children were rescued first and everyone was brought back safely.
Kingsbridge fire crew was also on hand to give the muddy crew a hose down.
More on this and other stories from Devon
Prawle Point Coastguard Team said: "The first people recovered off that boat included a three-year-old girl.
"The rescue took place over several hours [on Thursday] and it was important to get the children off first due to the weather and lack of fluids on board."