Murder-suicide of wealthy couple at Devon farmhouse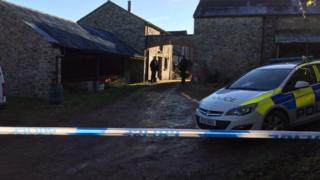 A wealthy company director bludgeoned his wife to death at their secluded farmhouse before taking his own life, an inquest heard.
Retired stockbroker Michael Beck, 62, murdered his wife Nicola, 52, at their home near Dunkeswell, Devon in January.
In a note written shortly before his death Mr Beck asked his family to be "utterly ruthless, merciless and heartless" in executing his will.
The couple split their time between the farmhouse and a £2m house in Chelsea.
Assistant Devon coroner Lydia Brown concluded Mr Beck killed himself and his wife was unlawfully killed.
'Grubby situation'
Mr Beck wrote to his sister Elizabeth and her husband Hugo Peel shortly before his death.
The letter said: "By the time you read this I will have killed Nicola and killed myself. It seems appropriate that such a grubby situation ends in such a grubby way."
Mr Beck wrote he had "spent my entire life fighting over money and cannot cope any more".
He said: "Above all I want you to ensure that my will is carried out to the letter. I want you to be utterly ruthless, merciless and heartless."
The inquest in Exeter heard Mrs Beck died from blows to the head.
Mr Beck was found hanged in a barn.
'Brutal and merciless'
In December 2016 Mr Beck went to a solicitor in Salisbury telling them his wife wanted a divorce.
Mr Beck wrote an email to his wife looking forward to 2017 saying: "I just can't see that getting a divorce will benefit either of us. I still love you very much."
The inquest heard Mrs Beck felt unfulfilled in the marriage and the couple were leading separate lives.
The coroner said it appeared Mr Beck "was unable to contemplate a divorce".
She said: "He was in no way financially challenged but his financial obsession led to this brutal and merciless killing.
"It remains incomprehensible how matters could have ended like this."