Dartmouth air display axed in boaters safety fear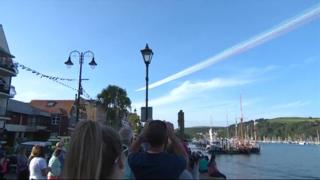 A regatta's air display was cancelled after boat owners ignored advice to leave their vessels and watch from land.
Crowds booed after the announcement was made that the Dartmouth Regatta display in Devon had been called off.
A fly-past by the Red Arrows went ahead but a display by an RAF Typhoon was cancelled.
New rules after the 2015 Shoreham air disaster mean tougher restrictions on people underneath flight paths.
Boat users were warned if they did not leave their vessels for Sunday's planned display by a Typhoon, it would also be cancelled.
"It's not because I want to mess people around, it's for their safety," said regatta flying director Jason Aylett.
"The new regulations are very tight now after the Shoreham incident.
"If they co-operate we can have display but if too many people choose to ignore my advice I will cancel the display again."
The regatta said in a statement: "The Typhoon display pilot is as disappointed as the crowd; he has since commented that he totally agreed with the decision taken on safety grounds, as he could see the numbers of individuals remaining on boats when he flew past."
Eleven people died at Shoreham when a vintage Hawker Hunter jet crashed on to the A27 on 22 August 2015.
New safety measures introduced by the Civil Aviation Authority (CAA) include:
Increasing the distance between the display line and crowd line at civil shows if they were "previously less than those in place for military displays"
Increasing the minimum altitude at which ex-military jets can carry out aerobatic manoeuvres
Strengthening post-display reporting requirements
Strengthening the "competency requirements for pilots performing aerobatic manoeuvres" in civil registered, ex-military jet aircraft
The CAA is responsible for allowing air shows to go ahead and monitoring their safety.