Troubled Cornwall hospital trust warned by regulator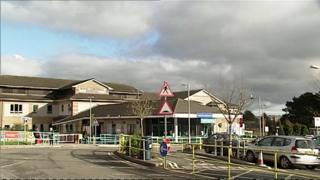 The health watchdog has warned the Royal Cornwall Hospitals Trust (RCHT) it must improve.
The Care Quality Commission (CQC) told the trust it "must make significant and sustainable improvements".
The regulator issued a warning notice which highlighted staff shortages, increased waiting lists and confidentiality issues.
Kathy Byrne, chief executive of RCHT, said "immediate action" was needed to make "significant improvements".
In June, the CQC said RCHT had shown "little sign of real improvement" after a previous inadequate rating.
Inspectors visited the trust in July 2017 to check on progress.
---
Problems identified by the CQC
Not enough staff to meet patients' needs
Not enough specialist children's nurses in the emergency department
Increasing waiting lists and patient demand in ophthalmology and cardiology
High levels of delays in patient discharges from the critical care unit
Lack of effective systems and processes to ensure confidentiality
---
Mary Cridge, head of hospital inspection for the CQC in the South West, said: "We have told RCHT it must deliver significant and sustainable improvements to the quality of care that it provides to patients throughout the trust by 30 November 2017."
She said the CQC would return to the trust to check on progress "at a later date".
The RCHT is responsible for the Royal Cornwall Hospital in Truro, West Cornwall Hospital in Penzance and St Michaels's Hospital in Hayle.
Graham Webster, vice-chairman of Health Initiative Cornwall, said the regulator's warning was "extremely disappointing".
He said: "We've had reports for many years all pointing towards underperformance and we seem to be unable to address the concerns raised by them."
In a letter to all staff, Ms Byrne said "sustained improvement" to a range of services was needed.
She said: "Good, safe care is the number one priority for everyone at the trust and we will respond swiftly and effectively to each of the CQC recommendations."