First 'digital dogs' police unit trained in Exeter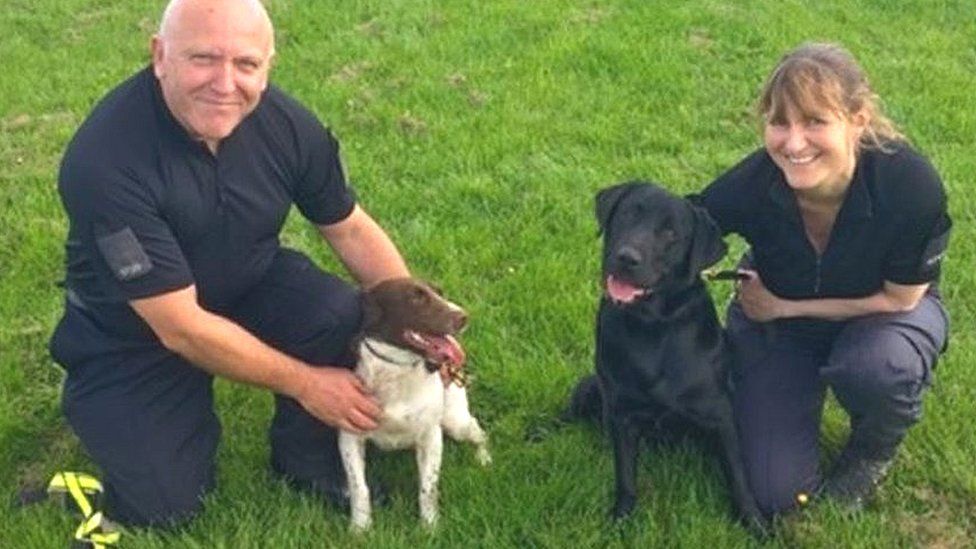 The first dogs trained to sniff out mobile phones, hard drives and other digital devices have been put into service by UK police forces.
Dogs Tweed and Rob were trained by Devon and Cornwall and Dorset police to sniff out mobile devices, USB sticks, SD cards, hard drives and computers.
Police said the trial unit was formed to give them a "new way" to fight terrorism, paedophilia and fraud.
Officers began training them in their own time, using tips from US forces.
PC Graham Attwood, a police dog instructor for the Alliance Police Dog School in Exeter, started the trial scheme in December 2016 after collaborating with US state police in Connecticut and the FBI.
He said the dogs were bought specifically for the project, and training them was a "unique challenge", but he had already seen "fantastic results".
"Our digital dogs have already proven to be a success and have been used in over 50 warrants executed across the UK, including Hampshire, Essex, South Wales, and North Yorkshire."
In one search warrant, PC Attwood said springer spaniel Tweed picked out what looked like a fizzy drinks can, which turned out to be a "money box", containing a number of SD cards.
At another search, he said labrador Rob found a small device "carefully hidden in a drawer", which the officer suspects would have been missed by the human eye.
The team were recently assessed by visiting police and FBI staff from the US.
Mike Real, who co-founded the original American digital dogs programme said: "I have every confidence that Tweed and Rob will provide the UK law enforcement community an impressive new tool in the fight against child predators, fraud and terrorism."
FBI Special Agent Jeffrey Calandra said: "In today's tech-driven world, crime has no state or even country boundaries, so helping our law enforcement partners around the world develop cutting edge detection capabilities is key to fighting crime and terror."
A spokesman from Devon and Cornwall Police said the pair were "part of a trial" and the force would be looking to roll the scheme out wider.
Related Internet Links
The BBC is not responsible for the content of external sites.