Paignton Zoo culls antelope herd after bovine TB infection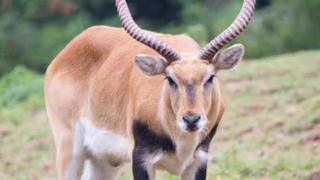 A zoo has culled a herd of antelopes after one of its animals tested positive for Bovine TB.
Paignton Zoo in Devon said staff were "saddened" by the cull, which saw ten animals killed.
A post-mortem examination on a dead lechwe antelope alerted staff to the presence of bovine TB, according to the zoo.
It said it was now working with government agencies to prevent the spread of the disease.
More on the zoo cull, and other Devon and Cornwall news
The zoo's executive director, Simon Tonge, said the cull was "appropriate" to make sure more other animals were not infected.
"We had to cull the antelope to protect the other animals in the zoo, as a farmer would have to cull to protect livestock around a farm," he added.