Ex-navy officer Charles Howeson 'groped men on ship'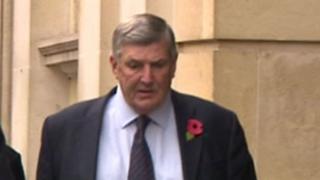 A former Royal Navy officer has gone on trial accused of "groping" young boys and men on board a ship.
Charles Howeson, 67, of Stonehouse, Plymouth, denies 11 counts of indecent assault and one other serious sexual offence against nine boys and men.
The alleged assaults happened on the frigate HMS Cleopatra where he was second in command and after he left the navy, Bristol Crown Court was told.
Mr Howeson felt "unassailable because of his status", the court heard.
More on this story and others from Devon
The court heard he was moved to another ship after complaints about his behaviour.
Prosecutor Paul Dunkels QC said the alleged offences, between December 1985 and September 1994, were "about sexual behaviour towards young males" which "could be described as groping".
Mr Dunkels said: "The common theme was his dominant position, his rank, age or position.
"He was emboldened because he thought he could face off any allegations."
Mr Dunkels said the cases had come to court now because "the culture at the time was to discourage complaints to the police" and "some felt they would not be believed".
A number of the offences allegedly happened in tunnels on the former military outpost of Drake's Island in Plymouth Sound.
Mr Howeson was executive director of the Groundwork Trust charity in the 1990s and it was alleged he touched people doing clear-up work for the charity on the pretext of lifting them up to carry out checks on cables and switches.
When the allegations came to light the charity did not encourage the accusers to inform police and instead it let Mr Howeson retire on health grounds, the court heard.
Mr Howeson is a former regional chairman of Coutts bank, and a former chairman of Plymouth Chamber of Commerce, NHS Property Services and First Great Western Trains Advisory Board.