Jilted mechanic jailed for cutting car brakes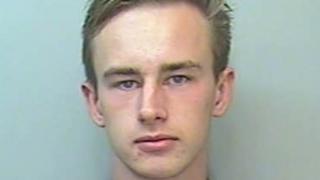 A jilted lover has been jailed for cutting the brake pipes on two cars belonging to his ex-girlfriend's brother and sister.
James Stimson, a trained army mechanic, also loosened wheel nuts on one of the cars in Torrington, Devon.
He admitted causing damage and being reckless as to whether life was endangered, and was jailed for two years and four months.
An expert told Exeter Crown Court one of the cars was a "death trap".
The court heard Stimson, 19, had been in a relationship with the woman for 14 months before they broke up.
He had gone to her family home on 13 September to demand, unsuccessfully, the return of a ring he had given her.
He returned later that night to sabotage the cars.
'Fetched tools'
His ex's sister drove her car at 05:15 the next morning and discovered the brakes did not work while on a hill near her home.
She was able to use the gears and handbrake to stop without a crash but was left terrified.
Her brother was alerted by a warning light on the dashboard of his car and got a friend to take a look before driving it.
A mechanic discovered the brakes did not work and the wheel nuts had been removed, meaning the wheels would have fallen off if it had been driven for any distance.
Judge Geoffrey Mercer told Stimson, of Parkfield, Tiverton: "You cut the brake pipes on two cars and loosened the rear wheel nuts on one.
"It was not done on the spur of the moment. You went and fetched tools with which to do it.
"It is obvious that the consequences could have been infinitely more serious than happily they were. As a mechanic, you understood that."
Richard Crabb, defending, said Stimson "feels remorse and wishes he could turn the clock back."