M5 closure: Drivers stuck for hours in freezing temperatures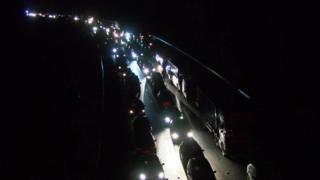 Drivers were left stuck in vehicles for several hours in freezing temperatures as the M5 was shut in both directions.
It followed "concerns for the welfare of a man" on a bridge at junction 28, near Cullompton, at about 16:00 GMT, police said.
Just after 20:40, Devon and Cornwall Police said the man had been moved from the bridge and the road was reopening.
Richard Jones, said his wife and eight-week old baby were among those stuck in traffic in a "very cold Skoda".
The closure caused traffic jams stretching back for seven miles (11km) from the bridge, in mid-Devon.
Highways England confirmed the motorway was "fully open" at 21:43 after work to move broken down vehicles.
Many people were stranded in their cars for hours and some posted on social media to say they risked running out of fuel on the motorway.
Forecasters had predicted temperatures in the area would be going down to -1C during the night.
Sara Morgan-Broom, who was one of those stuck in the queues, said she had not moved on the motorway between 16:20 and 20:12.
Devon and Cornwall Police said there were a number of breakdowns in the area and warned surrounding roads remained busy.
They also tweeted that the man who had been on the bridge was now receiving support from mental health professionals.