First date interrupted by dog cliff fall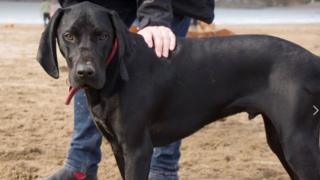 A dog has survived a fall of nearly 100ft (30m) down a cliff.
The dog's owner, Philippa Ruggier, was on a first date walking on the cliffs at Orcombe Point in Devon on Saturday afternoon, when Luther fell.
The 12-month-old pointer-vizsla cross needs surgery for a leg wound but is expected to make a full recovery.
"It was a very memorable first date... but Michael's just texted me to see how Luther is, so I think there may well be a second date," Ms Ruggier said.
Luther, who is a Pets as Therapy (PAT) dog, was rescued by the Exmouth RNLI inshore lifeboat crew, who administered first aid.
"He's torn the dewclaw digit and it's quite a deep wound, but the vet felt he'd had enough of a shock for one day, so he's having the operation on Tuesday morning," said Ms Ruggier, who lives in Exeter.
"Luther's very gangly - all legs and feet - but also very calm and sensible, which helped enormously.
"He landed on a ledge about three-quarters the way down the cliff and stood howling for about 10 minutes and scrabbling to try to climb back up, then just sort of slithered down to the bottom."
Exmouth RNLI's Dave Littlefield said: "Philippa and Michael did the right thing to call 999 and not attempt a rescue themselves as this could have put them in danger."
Ms Ruggier said Luther appeared to be none the worse for his adventure and has had "a lot of love from my three boys".
"He was due to have his first PAT role next week, but that will need to be postponed for a while," she said.
PAT dogs visit residential homes, hospitals, hospices and schools to help people enjoy the therapeutic benefits of touching and stroking an animal.