'Brexit' number plate for sale as Torquay owner 'banned' from using it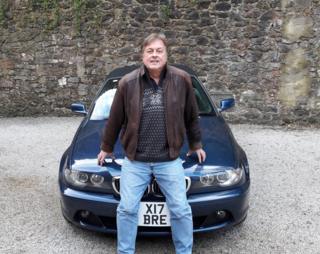 A 'Brexit' number plate is for sale after its owner was told that he was "not allowed" to drive around with it on his car.
The number plate - X17 BRE - is being sold by Mark Hoyle from Torquay, Devon.
Mr Hoyle has bought and sold other funny registration plates for charity, but was told by his partner he is not allowed to use it on any of their cars.
Profits from the sale will go to a charity aiming to give rough sleepers a hot Christmas meal, Mr Hoyle said.
A hot Christmas meal is exactly what Mr Hoyle would have missed out on had he used the plate.
In his product description, he wrote he had "been threatened with no Xmas dinner if this registration number goes on one of our cars".
Mr Hoyle has been collecting humorous personalised plates for about 20 years and still owns some of his favourites, including "BOY580Y" (Boysboy) and "B4NDB".
He began selling plates to help charity following a stint in Torbay Hospital, after which he donated around £250 to the Ricky Grant Day Unit.
This time however, he decided to use the buzz word of the moment - Brexit - to raise awareness of another cause close to his heart.
He said: "The homeless situation in this area is chronic. Walking by Torquay harbour recently, it seemed like every doorway had someone sleeping in it."
Currently on sale for the starting price of £750, Mr Hoyle plans to donate all money achieved above £499 to homeless charity Humanity Torbay to help fund 100 Christmas meals for rough sleepers.
"I'm no good at coffee mornings or bric-a-brac sales, so I thought I could help this way," he said.