Devon backpacker gets meningitis after 'stray cat infection'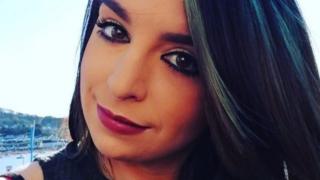 A 22-year-old backpacker is seriously ill in Australia with meningitis, blood poisoning and swelling of the brain.
Scarlet Goodrich, from Teignmouth in Devon, was working on a fruit farm near Melbourne when it is thought she could have been infected by a stray cat.
She is suffering from two very rare bacterial infections that are affecting her spine and brain, her family said.
She is making "small steps to recovery" but faces Christmas in hospital as doctors battle with the swelling.
More on this story and others from Devon
Her uncle Christian Goodrich said: "It's still a serious situation and doctors and neurologists continue to monitor her closely."
He said she was due to undergo a series of scans and doctors were hoping to introduce a new drug to help reduce the "key issue" of swelling on the brain.
---
Meningitis facts
Meningitis is an infection of the protective membranes surrounding the brain and spinal cord and caused by a number of different pathogens
Viral meningitis is the most common and least serious type. Bacterial meningitis is rare but can be very serious if not treated
If you are worried that someone is seriously ill with meningitis, trust your instincts and seek urgent medical help. Don't wait for a "tell-tale" rash
There are vaccines that can protect against some forms of meningitis
---
Ms Goodrich's recovery is expected to take at least six months.
Her mother Alethea has flown to the Melbourne hospital to be with her.
She had been working her way around Australia for the past 15 months.