Teignbridge councillor jailed for mallet attack on wife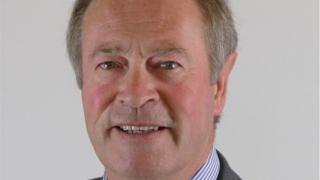 A senior councillor who attacked his wife with a wooden mallet has been jailed for three years.
Douglas Hellier-Laing, 67, hit his wife Susan in the head three times before phoning police to confess.
Mrs Hellier-Laing, 59, was treated for serious injuries after the attack on 29 October, Exeter Crown Court heard.
Her husband, a cabinet member of Conservative-led Teignbridge District Council, admitted wounding with intent to cause grievous bodily harm.
Judge Graham Cottle also imposed an indefinite restraining order.
The court was told the couple had been living separate lives but under the same roof with the plan to divorce.
Mrs Hellier-Laing had returned home after a night with friends and was suddenly attacked by her husband, who had been drinking.
Prosecutor Rachel Drake told the court Mrs Laing escaped and ran to a neighbour's home, telling them: "He hit me and he told me he was waiting for me."
In his 999 call, her husband said: "I used a weapon, a wooden mallet, I'll explain more when they come".
When police arrived, he was arrested for attempted murder and told detectives it was a "moment of madness", describing his drunkenness as a "seven out of 10".
'Moment of madness'
Mrs Hellier-Laing sustained several wounds, one of which was "pulsing with blood", the court heard.
She was taken to hospital with serious injuries, one needing nine stitches.
In a statement read in court Mrs Laing wrote "I don't think I'll ever be the same again...I'm not living, I'm just existing...I just want to hide away".
Martin Salloway, defending, said the attack was a "moment of madness" for Hellier-Laing, of Clifford Street, Chudleigh.
Sentencing, Judge Graham Cottle said the defendant had caused a "very very unpleasant set of injuries" but the offence was "totally out of character".
Teignbridge District Council said Hellier-Laing would be removed from office once convicted.