Former Plymouth navy officer guilty of sex assaults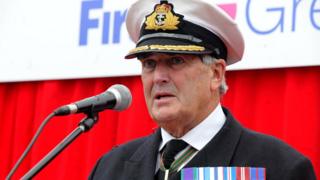 A former senior naval officer has been found guilty of a string of sexual assaults against eight men.
Charles Howeson, 68, from Plymouth, was convicted of ten historical sexual offences at Bristol Crown Court.
Howeson has also held high profile positions including with the Consumer Council for Water and First Great Western Trains.
Some of the offences happened on board a ship of which he was second in command, and others in dark tunnels.
More Devon and Cornwall stories
The crimes include groping men while in dark tunnels on Drake's Island off Plymouth while he was Executive Director of the Plymouth Area Groundwork Trust charity.
He also assaulted a crewman on board HMS Cleopatra where he was a senior officer.
Another victim was employed by Howeson to do maintenance work, and was repeatedly groped on several occasions while up a step ladder, with Howeson at the bottom.
Howeson was being tried for crimes committed between 1985 and 1994 and the trial lasted five weeks.
The jury was unable to reach a verdict of two other charges and he will be sentenced on 2 February.
'Big guy in the community'
One of Howeson's victims, who does not want to be identified, said he was abused several times while doing maintenance work at his property.
The abuse started when Howeson asked him to go up a stepladder to check on a roof while he held the ladder, and touched his private parts while he was up there.
He said: "A couple of times a week we would go back in there and check and check it again.
"He would make excuses no matter how much I said to him that I had checked it because I tried to avoid being in there with him as much as I could.
"I said it's already been done but he insisted on going in and having a look for himself and I'd be in the same situation again and then it became a bit more obvious what he was doing - holding me so I couldn't move and pushing himself up against me."
The man came forward after reading about allegations against Howeson. He said it took him years to do so.
"I think by that time I knew his status in the community that I wouldn't be believed. I was a young lad up against somebody who was a very big guy in the community I didn't think I would be believed", he added.
Timeline
1967 Charles Howeson joined the Royal Navy as a cadet before gaining promotions to officer ranks.
1985 Moved from his role as second in Command (Lieutenant Commander) of HMS Cleopatra after allegation of indecent assault against a sailor. Takes on a land-based intelligence role.
1991 Leaves Royal Navy as a Commander. Final posting was Chief of the Allied Staff in Gibraltar.
1991 Becomes Executive Director of Plymouth Area Groundwork Trust charity. Leaves on health grounds in early 1993 after a number of people make allegations of indecent assault against him.
1997-2012 Holds a number of high-profile roles including regional Chair of the Consumer Council for Water, Chairman of First Great Western Trains Advisory Board.
March 2017 charged with historical sexual offences.