Plastic sea pollution to be recycled into kayaks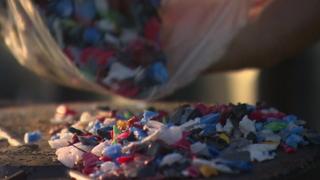 Plastic being washed up on beaches and hauled up in fishing nets is being recycled and turned into kayaks.
It is part of a new scheme in Devon and Cornwall which is looking at different ways of cleaning up plastic sea pollution.
Neil Hembrow from Keep Britain Tidy said all the plastic collected is processed into pellets and then "melted and moulded into products".
The kayaks will be used by community groups to clean up beaches.
More on this and other Devon and Cornwall stories
The plastic gathered on beaches under the new scheme is brought to recycling centres in one of 11 harbours across the South West.
The idea is to turn washed-up plastic into a useful product.
Mr Hembrow said: "We do find, by weight, around about 80% of the waste is coming in from the marine environment."
The fishing industry says it has had a project in place for more than 10 years to help with sea pollution.
Jim Portas, chief executive of South Western Fish Producer Organisation, said fishermen find an "awful lot of lightweight debris" coming up in their nets, as the nets come aboard.
"Fishermen are bringing that sort of plastic into the harbours to be disposed of and that finds its way to recycling centres," he added.
The Marine Conservation Society said in the last five years, its volunteer beach cleaners have found over 42,000 items of fishing industry related litter on beaches in the South West.
It urges UK governments to "support recent EU proposals and tackle litter from ships, including fishing vessels" which will "change the 100% indirect fee for waste disposal from ships".
The kayaks produced are due to be given to local community groups to clean up rivers and coastlines this spring.