Crown Censure for MoD over Devonport engineer death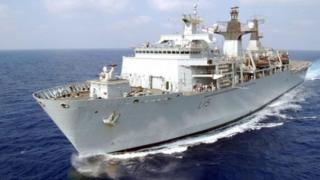 The Ministry of Defence (MoD) has been issued with a Crown Censure over the death a Royal Navy engineer during lift maintenance work on a ship.
Neal Edmonds, 42, was crushed by a moving lift while carrying out maintenance work on board HMS Bulwark at Devonport in June 2014.
An investigation found the MoD failed to provide sufficient safeguards against the risks.
A Crown Censure is the maximum sanction a government body can receive.
On its website, the Health and Safety Executive (HSE) defines a Crown Censure as a record that "but for Crown immunity, the evidence of a Crown body's failure to comply with health and safety law would have been sufficient to provide a realistic prospect of securing a conviction".
Mr Edmonds from Kidderminster, Worcestershire, was crushed while working between a moving lift and the lift shaft on the vessel.
An HSE investigation found that the MoD had "failed to ensure there was a safe system of work".
In a statement, HSE's Jane Lassey said: "The risks arising from maintenance operations are well known and suitable measures required to reduce these risks are understood.
"Like any employer, the MoD has a responsibility to reduce dangers to its personnel, as far as they properly can, and in this case they failed Neal Edmonds."
Through accepting the Crown Censure, the MoD has admitted its breach of duty under the Health and Safety as Work Act.