Valentine's Day move for zoo's single penguins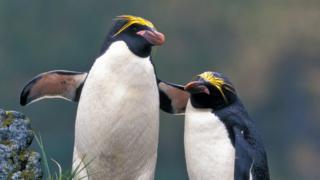 Bachelor penguins are to be removed from a zoo's colony over Valentine's Day, leaving couples alone to breed and boost numbers.
Five macaroni penguin couples at Devon's Living Coasts are at risk of being "disturbed" or broken up by eight single males, officials said.
Keepers said most of the singletons will be moved to another zoo so the couples can have some alone time.
Curator Clare Rugg said: "Unpaired males tend to disturb nesting birds."
She added: "They try to steal nesting material and even attempt to push out males and take their place.
"But this move is also based on genetics - zoos work hard to make sure we're keeping a strong and healthy breeding group of any given species."
Keeper Jason Keller added: "Macaroni breeding in recent years has not been ideal, as we have had too many males and also had a difficult age structure, with lots of very young birds and older birds and not enough of breeding age."
The keepers manage the official breed registry or studbook for the birds.