Child sex offenders jailed after appeal by Solicitor General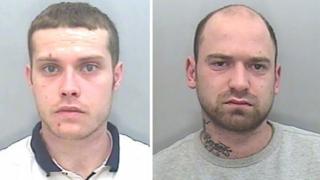 Two men who sexually abused two 14-year-old girls have been sent to prison after the Solicitor General appealed against their initial sentences.
Lee Pollard and Marc Allen were originally sentenced at Exeter Crown Court in November to 15 months in prison, suspended for 24 months.
One of the victim's mothers criticised the outcome.
The Court of Appeal has since quashed the original sentences and replaced them with immediate prison terms.
Pollard, 26, of Saxmundham, Suffolk, has been jailed for two years, nine months and Allen, 26, of Torquay, Devon, has been given three years and six months.
Pollard and Allen, who were convicted of sexual activity with a child after trial, both denied knowing the girls were underage.
The offences took place while the girls were under the influence of alcohol and drugs at a party in Dawlish, Devon.
In his sentencing, Judge Graham Cottle said the sexual activity was consensual and the girls were drunk when the men arrived.
But their case was referred to the attorney general's office under the unduly lenient sentence scheme after one of the girl's mothers criticised the outcome.
Solicitor General, Robert Buckland QC MP, said: "Despite knowing that the girls were only 14 years old Pollard and Allen engaged them in sexual activity and provided them both with alcohol and drugs.
"They have no excuse for their behaviour.
"I hope that the increased sentences will bring some comfort to the girls' families."