Snails too 'sluggish' to race in Devon due to cold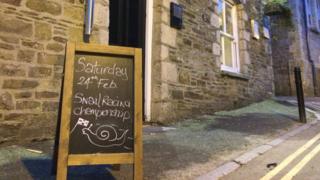 A snail racing competition has been postponed because the snails are too slow and sleepy.
The Dartmoor Union pub in Holbeton was due to hold the charity event on Saturday.
However, when manager Donna Aziz called the Plymouth pet shop for the snails she was told the cold snap had made them too "sluggish" to go racing .
"We've promised everyone that we'll hold the event when they wake up," said Ms Aziz.
The event had been planned for several months at the pub, with money going towards Devon Air Ambulance.
Posters advertising it have since been removed.
"Perhaps we should have known because you don't see a lot of snails around," said Ms Aziz.
"I'm a little bit disappointed but there's not a lot we can do."
Mike Trembath of the Ark Pet Shop said: "They've got a bit sluggish in the cold weather.
"It happens with pretty much cold-blooded creatures but they will wake up when it gets warmer."