Torquay photo-shaming 'reduced beggar numbers'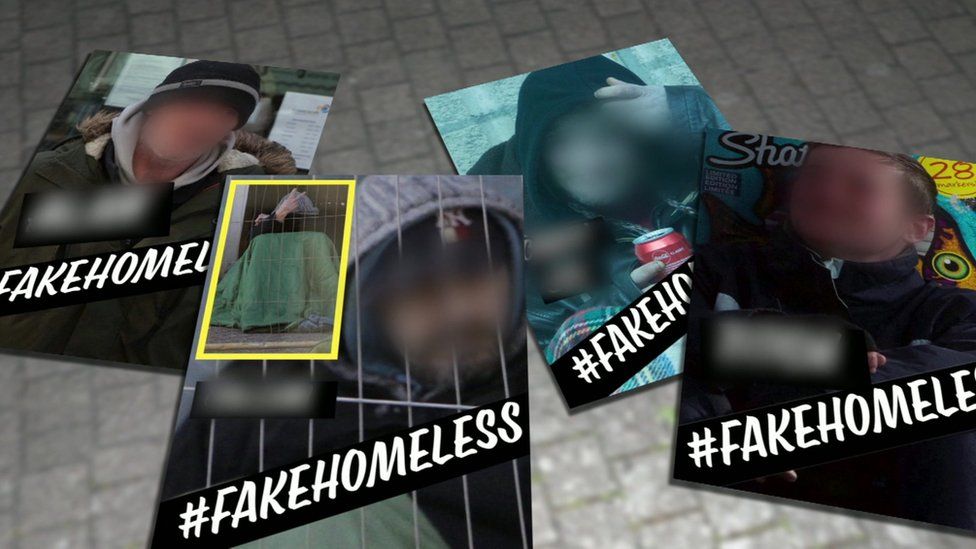 A businessman who photographed so-called professional beggars in a seaside resort has apparently prompted a drop in anti-social behaviour.
Ashley Sims said he wanted to "out" those people in Torquay, and threatened to post their pictures on social media.
It has led to a drop in "professional" beggars who harass the genuinely homeless, a charity says.
But police and Torbay Council are strongly opposed to the scheme, which they say "encourages vigilantism".
Inventor and product developer Mr Sims said: "The people who are genuinely homeless are already getting grief because of the hostility of the professional beggars.
"Most people in the town centre aren't genuinely homeless, and [the real homeless are] getting the grief - genuinely homeless people are getting urinated on, they're getting spat on.
"[The professional beggars] are brilliant at their jobs. They evolve, they move on, they reinvent themselves, they know where to move, they tag-team each other if people are starting to get aggressive and move all around the town.
"I took 17 photos, and two were genuine."
Mr Sims is urging people to give directly to homeless charities instead of handing cash to people on the street.
Ellie Waugh, from homeless charity Humanity Torbay, said: "We don't believe in naming and shaming but the genuine homeless can go down the end of the town now without fear of reprisals."
John Hamblin, chief executive of Devon homeless charity Shekinah, called the campaign "divisive and dangerous".
He said: "I'm not saying there isn't a problem with begging, but there's an appropriate way of dealing with it - what you don't do is start naming and shaming - it all feels very vigilante-like."
How many homeless are there in Torquay?
Torbay Council reported finding 24 people sleeping rough, in autumn 2017
It means there were just under four rough sleepers (3.9) for every 10,000 households in the Torbay Council area
This is twice the national average for England (two per 10,000 households).
Across England as a whole, there were 4,751 people counted or estimated to be sleeping rough last autumn
She said there had been at least 18 professional beggars in the town who had beaten up and stolen from those who are genuinely homeless.
"There is a lot of support for what he has done," she said.
Hairdresser Zak Stone said: "I think it's a brilliant idea.
"We've seen a dramatic drop in anti-social behaviour in this area."
Shopkeeper Zoe Scriven said: "We see aggressive begging all the time. They position themselves at the cash machine intimidating people, especially the elderly who are frightened into giving them money."
"It's putting people off coming into town because it's not a nice place to be at the moment."
One man, who wanted to be identified only as Phil and said he was genuinely homeless, said the scheme amounted to "bullying".
"I don't like doing it but at the moment it is lesser of all evils," he said.
The police and the council said outing people as fraudsters based on "often unverifiable information fails to acknowledge the very complex and chaotic lives of those concerned, many of whom are extremely vulnerable".
Related Internet Links
The BBC is not responsible for the content of external sites.