Totnes landslide damages cars and shuts road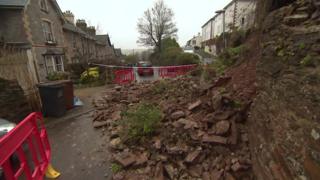 A large landslide in a residential area sounded like a "massive explosion", residents said.
The "significant" cascade of rock fell on to a popular through-road in Totnes, Devon, at about 20:30 GMT on Friday, damaging four cars, police said.
People living there said someone could have been killed or seriously injured by the collapsed retaining wall.
Devon and Cornwall Police closed Maudlin Road and said the matter had been passed to Highways England.
Caroline Voaden said she was in bed when it happened. "Suddenly I heard this massive what sounded to me like an explosion... Thank goodness we weren't walking past or had the dog," she said. "Somebody could have been really badly hurt if not killed."
Philip Strange, who raised the alarm, said it was not the first time a landslip had happened there.
"Last time there was a concern that somebody might have been under it," he said. "There clearly isn't here, but people were walking past right up to near the time it fell down."
Highways England said it would be the responsibility of Devon County Council to clear. The council was unavailable for comment on Saturday.
The landslide happened just over a week after a deluge of snow and harsh weather conditions across the South West.
It follows a similar incident at Lusty Glaze beach in Newquay on Monday, where work has begun to make it safe.