North Devon nurseries closed over safeguarding issues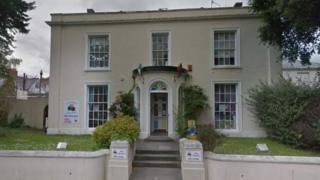 Four nurseries attended by about 450 children are to be permanently closed following a safeguarding investigation.
Claire's Childrens Nurseries in Devon had its registration suspended last month, and Ofsted has now issued a notice of intent to cancel it.
Problems identified include not having a robust safeguarding policy, a clear whistleblowing procedure or maintaining staff to child ratios.
The registered owner of the nurseries has 14 days to appeal the notice.
Claire Symons has been contacted for a comment by the BBC.
An Ofsted spokesperson said: "We are not satisfied that the provider remains suitable for registration or that they are able to take sufficient steps to ensure they sustain compliance with the requirements of registration."
The registration was initially suspended because Ofsted had "received information that gives us cause to believe safeguarding arrangements are not secure".
'Heartbreaking'
About 100 staff worked at the four sites: Claire's Flying Start Nursery, Claire's Little Bears Nursery and Claire's Newport Nursery in Barnstaple and Claire's Little Robins Nursery in Bideford.
Some have told the BBC they are owed money, and others said they have not received official confirmation from managers, with some saying they are "disgusted" at the way it has been handled.
One parent, Daniel Dalley, said he has been trying to find places for his two sons when the Easter holidays finish.
"There are now 400 plus children looking for places and not enough nurseries in the area," he added.
A nursery assistant, who worked at one of the nurseries, told the BBC: "I can't express enough that we've been treated like absolute rubbish, and to think of all the hard work the staff have put in. Staff have cars on finance, rent to pay, credit card bills. It's disgusting."
Another nursery nurse said: "We will miss all of the children. We spent so much time together it's heartbreaking not being able to say goodbye."