Needles found on baby changing table in Plymouth McDonald's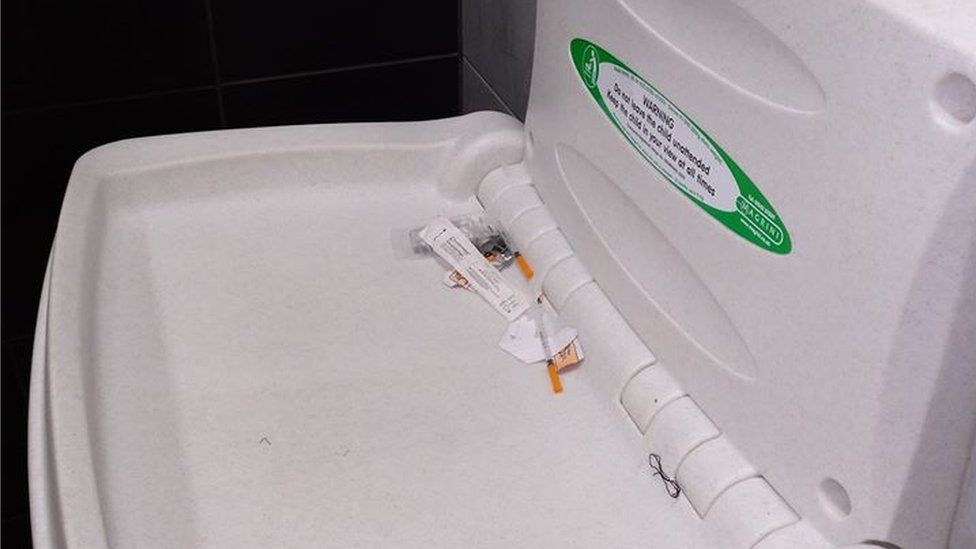 A mother found used needles on a nappy changing table she was about to use for her baby daughter in a McDonald's restaurant.
Jade Krotke, 25, found the three used syringes on the surface of the pull-down table at the New George Street branch in Plymouth.
She said she had "no words" for the person who left the needles and urged them not to put others at risk.
McDonald's apologised and said the locked facility was checked frequently.
Miss Krotke was at the restaurant with family and friends when she and her husband went to change their eight-month-old baby Olivia.
She said: "While he was lifting her out of the pram I pulled the unit down and heard the clang of a metal dish. I was immediately in shock and suddenly realised the packaging was needles."
Miss Krotke, who alerted the manager, said she was "disgusted" by the person who left them there.
"There was a sanitary bin in there," she said.
"I'm not judging them for their habit but please don't put others at risk.
"You could have put them in the bin or even attempted to flush them. But putting them inside a baby changing unit, there are no words for you."
McDonald's said in a statement that it was "sorry for this customer's experience".
The firm said "hygiene and safety" was of "paramount importance" and the baby changing facility was locked and checked frequently.
It said that once the restaurant manager became aware of the issue the "items were disposed of safely".
Related Internet Links
The BBC is not responsible for the content of external sites.