Nursery owner Claire Symons gave criminal partner job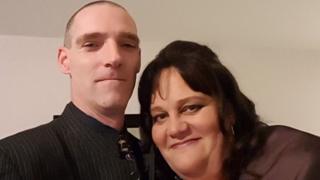 A nursery owner employed her partner who had a criminal record for battery and theft, as well as a previous caution for wilful neglect.
Claire Symons was given notice her registration is to be cancelled earlier this month after an Ofsted safeguarding investigation.
Four nurseries in Devon, caring for about 400 children, have closed after a complaint prompted the investigation.
Ms Symons and Shane Connolly have declined to comment.
On 6 April, Ofsted issued a notice of intent to cancel the registration, and Ms Symons was given 14 days to appeal.
Mr Connolly worked as a handyman before becoming operations manager at the nursery.
Ofsted confirmed his criminal record formed part of the reason for the registration of Claire's Childrens Nurseries being suspended.
---
Extract from the notice of suspension seen by the BBC:
"On 15 March 2018, an allegations strategy meeting took place in relation to the concerns about your partner. You attended the latter half of this meeting and disclosed that you knew that your partner had previous convictions for battery and theft. You did not disclose that you knew about a caution he received in 2005 for six counts of wilful neglect. This a schedule one offence. When (Ofsted staff) visited Claire's Little Robins on 20 March 2018 you showed us your partner's DBS certificate. This included the caution for six counts of wilful neglect."
---
The watchdog said it started investigating the nurseries after it "received information that gives us cause to believe safeguarding arrangements are not secure".
A spokesperson said: "We are not satisfied that the provider remains suitable for registration or that they are able to take sufficient steps to ensure they sustain compliance with the requirements of registration."
It released a welfare notice last month detailing areas where improvements needed to be made.
These included issues around not having a robust safeguarding policy, a clear whistleblowing procedure or maintaining staff to child ratios.
The four nurseries affected are Claire's Flying Start Nursery, Claire's Little Bears Nursery and Claire's Newport Nursery, all in Barnstaple, and Claire's Little Robins Nursery in Bideford.
Mr Connolly worked there for more than a year, visiting all four sites but based principally in Bideford.
In 2013 he was convicted of assaulting his neighbour in a supermarket car park the previous year.
Anybody working with children must have a DBS check before starting employment.
A DBS certificate will list a person's criminal record, but the decision over whether or not to employ them is down to the individual employer.
The most serious offences such as child abuse or murder would mean the person is barred from working with children.
The notice of suspension said that Ms Symons told inspectors on 15 March 2018 she did not know that he had received a caution for six counts of wilful neglect from 2005.
However, five days later she showed them his DBS certificate, which included the caution.