Royal Marine who stole kit to sell on eBay jailed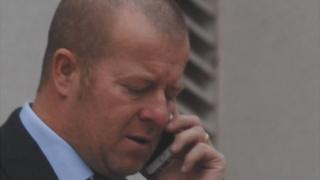 A Royal Marine who stole military kit - including "poignant" green beret badges - and sold items online for thousands of pounds has been jailed.
Warrant Officer Michael Bath, a veteran of Afghanistan and Iraq, took clothing, boots and badges from the Commando Training Centre at Lympstone, Devon.
The items were sold on through eBay to fund his gambling and drinking.
At Exeter Crown Court Bath was jailed for 15 months after admitting stealing and possessing criminal property.
Bath, 49, of Horton Path, Blyth in Northumberland, sold £66,000 of clothing and badges between 2012 and 2016.
A total of 478 pairs of boots were sold as he sent out regular parcels from the camp's post room.
He was caught when somebody noticed the military grade boots being sold on eBay.
Specialist Alt-Berg boots worn by marines can only be obtained through two legitimate companies.
The married father of two told a probation officer he had been "drinking heavily and gambling to excess" because of his past experiences working as a Royal Marine.
The court heard he had gambled away £170,000 in five years.
'Double life'
Judge Michael Cullum said Bath had sold hundreds of pairs of military boots, as well as "poignant" items like Green Beret cap badges, which were "coveted" by those who worked hard and were dedicated in obtaining them.
"This was a business to feed your addiction," the judge told him.
"You were leading a double life. You were in a position of trust."
Gavin Doig, defending, said: "He is deeply ashamed. He has let himself down, his Corps down and his family and friends who trusted in him."
He explained Bath was gambling and drinking because of the "traumatic role" telling families of the deaths of comrades.
The court was told that £50,000 compensation is being sought from the proceeds of his crime.