Mosque denies extremism links after controversial cleric donations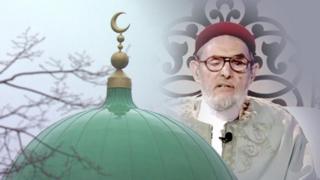 The trustees of a mosque are facing questions about donations they accepted from a controversial Muslim cleric.
Videos have emerged of Sheikh Sadiq Al-Ghariani expressing support for al-Qaeda aligned militia groups in Libya.
An online petition is calling on those who run the mosque in Devon to clarify how much money has been received and what it was spent on.
Trustees of the mosque said they "do not have any links to any form of extremism".
They also said they were not aware of Mr Ghariani's activities in Libya.
In 2015, the same year the cleric was reportedly making donations to the mosque in Exeter, he can be seen praising the violence of jihadi fighters in Libya.
In one video he says: "Those of them who die, are dying for the sake of God."
Tallha Abdulrazaq, the son of a former trustee of the Exeter Mosque, says Mr Gharini's first donation of £50,000 was presented in cash at a meeting of the trustees.
He said: "If he is linked to these extremist groups, and there's a lot of evidence that suggests that he is, do we really want to be taking his money and being associated with him? No.
"We do not want him in our community. The cash just appeared and was put on the table as £50,000 in cash, which obviously started suspicions."
Shaheed Ul Hassan is the man said to have brought the £50,000 to the mosque but he declined to be interviewed by the BBC.
However, at a meeting at the mosque, he and the other trustees told the BBC that they had received money from Mr Ghariani, but would not say how much.
A petition, put online by members of Exeter's Muslim community, claims the donations from Mr Ghariani came to a total of almost £250,000.
Mr Ghariani said claims he supports extremist groups are "completely devoid of truth and are a fabrication by political opponents" and he has issued numerous statements condemning extremism.
He said he has spoken in support only of moderate rebels and of families caught up in conflict.
He appears to confirm a longstanding relationship with Exeter Mosque trustee Mr Shaheed Ul Hassan who he says is "known for being trustworthy".
He said he doesn't remember exactly how much money had been donated but said he had "not set any conditions" for what the money should be used for, except that it should be spent on "completing construction of the mosque" in Exeter, which he said represented "moderate Islam, free of extremism".