Train firm fined as boy nearly falls through train toilet floor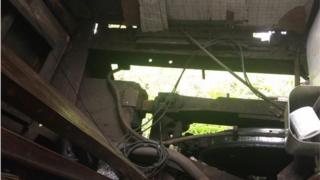 A steam railway trust has been fined £40,000 after a boy nearly fell through the open floor of a toilet cubicle.
Anna Patch's three-year-old son escaped serious injury last June after being pulled back by his mother, a magistrates' court heard.
An Office of Rail and Road (ORR) investigation discovered that the toilet floor had been missing from the carriage for two months.
Train operator South Devon Railway Trust has accepted it was at fault.
More on this story and others from Devon
The company continued using the carriage for three days after the incident.
Magistrates in Newton Abbot, Devon, heard how an "out of use" sign had been pinned to the toilet door to try to stop people entering the cubicle.
An attempt was also made to secure it shut but there were no ongoing checks and staff were not aware of the missing floor.
The ORR argued the carriage remained in service between Totnes and Buckfastleigh because of a busy Easter schedule in 2017.
A Rail Accident Investigation Branch (RAIB) report said the toilet floor on the carriage train, built in 1957, had rotted and been removed last April.
The carriage remained in service until June.
The ORR found that at some point between 5 April and 22 June the screws holding the door shut also broke, along with a wooden post, meaning it could easily be opened.
The ORR said a safety management system was about 10 years out of date and not fit for purpose.
Ian Prosser, HM Chief Inspector of Railways, said South Devon Railway Trust took "an exceptionally casual approach to ensuring the safety of its passengers".
"[It] created a genuine and unacceptable risk to the public," he said.
"In this instance it is only by good fortune and the swift action of the boy's mother that this incident was not a fatality."
You may also be interested in:
In a statement, South Devon Railway Trust said services will continue as normal after it was given "a helpful period of time" to pay the fine.
"The SDR accepts and regrets that improvement was needed at the time of the incident," it added.
"Hopefully it can be seen that the trust has reacted appropriately and seriously in the circumstances."