Woman 'regrets' driving into path of runners in Plymouth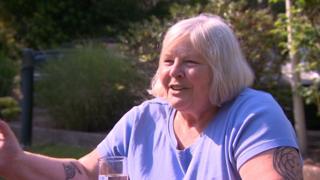 A woman who drove a car into the path of runners taking part in a half marathon has apologised, saying she "regrets" her actions.
Joanna Pine was criticised when she refused to turn back after leaving her home in Plymouth on Sunday.
She admitted: "I should have parked the car and tried to find someone and said, 'Is there a chance I can slip out?'
"That's hindsight. There were better ways to have handled it."
Ms Pine said she was trying to access a main road in order to get to a writing workshop she was giving in Okehampton, Devon.
She claimed "there was no other way out" due to road closures around Plymouth's Sutton Harbour.
She said although she knew about the race, leaflets were not distributed to those living along the route, so she was unsure when she could leave her home.
However, she said she had seen road signs put up in the area prior to the event.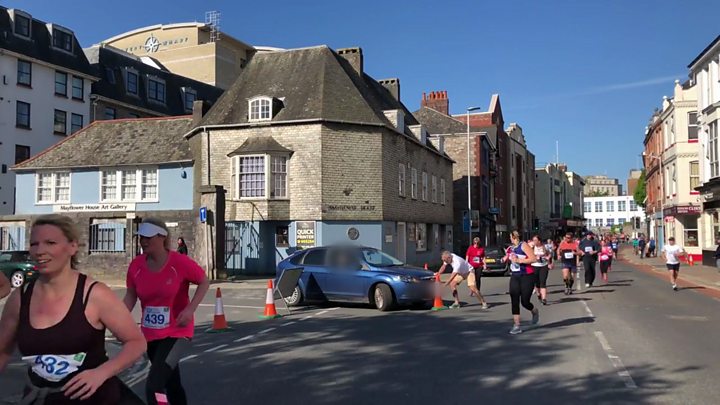 Local MP Luke Pollard said it was "very silly" in light of terror attacks where cars were used as weapons.
GB sprint hurdler David King, who was taking part in the race, described Ms Pine's actions as "disgusting".
Ms Pine said she felt scared and panicked when people started shouting at her as she inched out "very slowly".
"Everything was closed off," she said. "I tried to get out. I thought, 'What am I going to do?'
"I tried to remain calm because I was trying not to escalate it even more. But I felt increasingly trapped with a lot of very aggressive people.
She added: "No-one was saying, 'How can we help you out of this?'"
A spokesman for Devon and Cornwall Police said officers were aware of the incident and inquiries were under way into the matter.