Historic Devon Belle train celebrates 100 years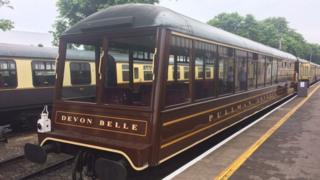 Train enthusiasts in Devon have celebrated 100 years of a rare type of carriage.
The Devon Belle was originally built as an ambulance vehicle in 1917, before being converted into a Pullman Observation Car in 1921.
Admirers gathered at Queen's Park Station in Paignton to take a ride in the historic carriage, which was "rescued" after it was withdrawn.
It is believed to be one of just two remaining in the world.
Devon Belle carriages operated in lines around England and Scotland, and the Pullman Observation Car became known for its distinctive design which offered panoramic views to passengers.
After the Second World War it was rebuilt again from it's 1921 design. It was this version which ran between London Waterloo and Illfracombe, in Devon, for Southern Railway.
The Dartmouth Steam Railway & River Boat Company, which runs a circular train route in the area, rescued the "stunning" carriage after it was removed from service.
Sereny Damon, from the company, said "She [the observation carriage] certainly deserves the acknowledgment for her historic service."
According to the company a note was also found under one of the seats during the rebuild.
Sereny Damon said it was "chalked on" and read: "Banbridge. Carriage and Wagon Shopman. Lancing Carriageworks, June 1947".
Joel Pearse, who found the message says it is most likely a memento left by a worker, possibly called Banbridge, who was refurbishing the carriage.
"So many years later, and doing the same job, we found his message," he said.