Colyton airs laundry in support of washing line mum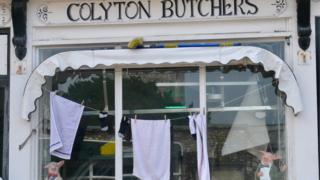 A town is "festooned with pants, socks and pyjamas" after residents came out in support of a mum who received an anonymous letter about her laundry.
Pants are flying from flagpoles in Colyton, Devon, after Claire Mountjoy received a note asking her not to air her washing outdoors.
The letter urged her to keep Colyton "a town we can all be proud of".
She said it was "lovely" more than a dozen homes and shops were now hanging their laundry outside in support.
More on this story and others from Devon
The anonymous letter was written "on behalf of local business" and asked Ms Mountjoy "with kindness" not to put washing out at the front of her terraced house, which is in "a prime location".
It said: "While we understand you have a small house with no outside room for your boys, would you please consider using a tumble dryer or hanging the washing indoors.
"This letter is not written with malice but we ask you to please help us all keep Colyton a town we can all be proud of."
Ms Mountjoy, an education officer for Devon Wildlife Trust, said: "Colyton has a tradition of being slightly rebellious and I think that has been shown.
"I've seen pants flying from flagpoles and the town was festooned with pants and socks and pyjamas."
Edward Jacobs posted on Facebook in support of her: "Love it and I'm proud to say that Colyton is my nearest town... just up the road. Personally I think the anonymous letter was 'pants'."
Robin Bell said: "Love this town's stance on things it shows where the heart comes from."
And Natalie Izzy Ellis wrote: "It's a way of life isn't it? That's what has got my back up. It's an age old thing, drying washing. It's not like Claire had a settee and a fridge out front rotting away!"
You may also like:
The sender of the letter remains a mystery, but Ms Mountjoy said people had told her they would like to see the laundry airing made an annual event.
According to local historians, Colyton became known as the "most rebellious town in Devon" during the Monmouth Rebellion as more citizens from the town joined the Protestant rebellion against James II in 1685 than from any other in the county.
Air versus tumble drying - which is best?
It depends on where you live and what you use, according to the Energy Saving Trust.
For people living in houses, drying clothes outdoors on a washing line or indoors on a rack costs nothing and uses no energy so it is the "ideal way" to dry your clothes, it says.
But if you live in a flat or somewhere else without outside space and need to use a tumble dryer, the trust advises choosing one with a good energy label rating such as an A++ or A+++.
Mike Childs of Friends of the Earth said: "Drying clothes outside rather than using a tumble dryer saves a huge amount of energy, which makes it more environmentally friendly as well as saving people money on their bills.
"If using a tumble dryer is absolutely necessary, wringing out clothes or spin drying them first will lessen the amount of energy needed."