Experts hunt for lost Yelland stone row in Devon estuary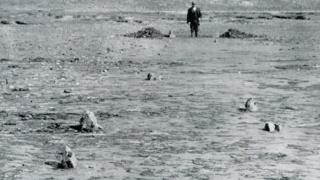 A search has begun to find rows of ancient standing stones which disappeared under silt in an estuary.
The search for the Yelland stone row is taking place at Isley Marsh RSPB nature reserve near Barnstaple, Devon.
Two lines of stones disappeared from view in the 1980s after the closure of a power station changed currents in the Taw and Torridge estuary.
They could be up to 4,500 years old and Historic England hopes they will reveal more about the climate at the time.
More on this story and others from Devon
The protected monument includes at least 18 small stones arranged in a pair of parallel rows.
Historic England's Charlotte Russell said it would be "exciting" to find the stones which have not been seen for more than 35 years.
"We need to make sure they're safe and haven't been damaged by flooding or bad weather," she said.
"This is an important site to keep safe and pass on to future generations, and we are hoping the work here will reveal more about the site and the conditions in which the monument was built thousands of years ago."
Dr Martin Bates is leading the investigation team from the University of Wales, which will be using geophysical surveying to find the stones.
He said their meaning was not fully understood but they are thought to have have ceremonial significance.
"We are very pleased to be working at this site, bringing our expertise developed along the Welsh coastline to south-west England," he said.
"Perhaps our study may help to shed light on the relationship the monument builders had with the sea."
Once the stones have been located and evidence collected and analysed, Devon County Council, the RSPB and Historic England hope to provide a new interpretation panel for visitors to explain more about the site and the ancient history of the area.