Dark web blamed for Cornwall drugs use increase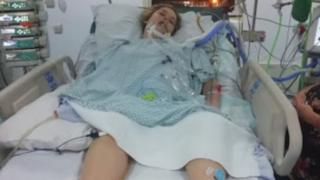 A rise in drugs use in Cornwall is probably because of the availability of illegal substances on the dark web, drugs workers in the county have said.
It follows the death last weekend of Shakira Pellow, 15, who collapsed in Camborne after taking an unidentified substance.
Three other teenagers were admitted to hospital having taken the same drugs.
The substance was made into small blue pills marked Duplo, the name of a Lego toy, and is being analysed by police.
See more news from Cornwall and Devon
The dark web, a collection of thousands of websites that use anonymity tools to hide their IP addresses, has been identified in the past as a source of illegal drugs.
Rick Bradley, operations manager at Addaction, which offers young people advice and information on drug use, said drugs were also being sold on social media.
"The dark web allows a little bit more accessibility," he said.
"In rural communities if there's not an established street scene people are able to order drugs off the dark web and have them delivered.
"That is a different scenario to three to four years ago when it was quite rare for young people to go down those routes."
Sam Dixon - also from Addaction, and based in Cornwall - added that drugs had become "more accessible than alcohol for an under-18".
She said: "What we have noticed over a 12-month period is less alcohol use among young people and an increase in drug use, due most probably to the dark web, to social media, and its reference in pop culture and songs."
Confirmed and suspected ecstasy deaths in Devon and Cornwall in 2017 and 2018
Hannah Bragg, 15
Schoolgirl rugby player Hannah Bragg died after taking what is thought to be MDMA, or ecstasy, on 23 June.
She was found unconscious in a field near a viaduct at Tavistock in Devon.
Paul Ward, Mayor of Tavistock said there was "still a feeling of shock" in the market town.
"It's very easy to believe that in a small town like Tavistock that you are safe, that you're in a bubble, you're protected from all the problems of a big city," he said.
"But this event has clearly demonstrated that is not the case."
A 20-year-old man, a 14-year-old boy and a 15-year-old boy have been arrested in connection with the suspected drug-related death of Hannah and have been released pending further inquiries.
Leah Kerry, 15
Schoolgirl Leah Kerry was celebrating the start of the summer holidays in Torquay in July 2017 when she died from an ecstasy overdose.
A pathologist said Leah had died from MDMA toxicity.
Oliver Woods, 21
Restaurant worker Oliver Woods, from Bude, died in April 2017 after a night out.
An inquest heard his cause of death was MDMA toxicity.
Luke Campbell-Tapson, 16
Student Luke Campbell-Tapson is believed to have taken MDMA on a night out in Ilfracombe in May 2017.
He was taken to North Devon District Hospital where he died.
Joshua Brock and Aaron Reilly, both 19
Aaron Reilly and aircraft engineer Joshua Brock were found unconscious in Plymouth's Pryzm nightclub and died in hospital in December 2017.
The friends had taken a mix of ecstasy and amphetamines, an inquest heard.
Police investigating Shakira's death arrested two 17-year-old boys, from Redruth and Camborne, on suspicion of possession with intent to supply a controlled drug. They have been bailed until 3 August.
The Royal Mail said it worked closely with law enforcement agencies, including the police for domestic mail and Border Force for international mail, to "help us to stop the carriage and delivery of illegal drugs that are ordered on the dark web".
The Home Office said: "We have committed to spending £1.9bn on cybersecurity over the next five years, including boosting the capabilities of the National Crime Agency's National Cyber Crime Unit, increasing their ability to investigate the most serious cyber crime."
The National Police Chiefs' Council lead for drugs, Cdr Simon Bray, said: "Police forces are committed to dealing with offences under the Misuse of Drugs Act 1971. We continue to enforce the law with full use of all the approved methods of prosecution and disposal available to us."