Man sentenced after death in drink drive crash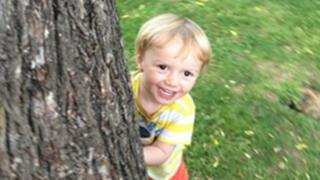 A drink-driver who crashed into a car, killing a toddler, has been jailed for five years and four months.
Andrew Vass, 31, from Wales, caused a "catastrophic" collision when his vehicle became airborne and "hit the bonnet and roof of the victim's car".
Reuben Williams, three, was going to visit grandparents with his mother when their vehicle was struck in Totnes.
Vass pleaded guilty to causing death and serious injury by dangerous driving.
The crash occurred on Plymouth Road on 12 December when Vass "lost control on a slight right-hand bend".
See more news from Cornwall and Devon
Plymouth Crown Court heard how he had been drinking the night before and "topped up" during the day.
He was described as driving his Honda Civic "aggressively and impatiently".
The court heard he had 98 milligrams of alcohol per 100 millilitres of blood. The legal limit is 80 milligrams.
His vehicle also had two defective tyres.
'Weight of conscience'
Judge Peter Johnson told Vass: "You tailgated and overtook vehicles when it was unsafe to do so.
"One witness described your driving as outrageous."
The court heard Vass's silver Honda had hit a bank on the opposite side of the road and became airborne, it then landed on the bonnet and roof of the Volvo carrying Reuben and his mother Francesca Gould.
Reuben suffered head injuries while Francesca received injuries to her left arm.
She told the court: "Six months later and I still struggle. My life feels empty now."
Reuben's father Tom Williams told the court how he found out about the crash whilst he was at work, he explained that he misses his son's "excitement and vibrancy" and hopes that Vass has to "carry a weight of conscience and regret."
Judge Johnson also issued Vass a two-year driving ban and said Reuben's loss had left an "infallible void".