Man rows across Devon harbour in bathtub for charity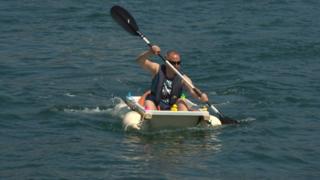 A man has rowed across a harbour in a floating bathtub to raise money for cancer research.
Plumber Iain Bevan, 51, spent two-and-a-half hours travelling across Tor Bay in Devon from Torquay to Paignton and wants to hit his target of £10,000.
The former Royal Navy engineer decided to take on the feat after the death of his mother, father-in-law and several friends to cancer within a few months of each other.
So far he has managed to raise £800.
"People are always going to turn their heads and look - the fact that I'm in a bath going across the sea - people look at me as if I'm crazy," he said.
"They're all saying, 'Keep the plug in.' If I had a pound for every time they said that, I wouldn't need to do any more fundraising."
Mr Bevan said he got some funny looks from people while practising for the fundraising attempt, with one man asking him if he was attempting to get to France.
He said there were some obvious modifications needed to make the bathtub safe before attempting the charity crossing.
"One day I just walked into the plumbers' merchant and said, 'Any chance I can have a bath?' And he said, 'What for?' And I said, 'I want to row it across the sea.'
"And basically I sealed the plug hole up, I sealed the waste fittings up, I put a few fenders on the side and that's it. Away I go."
He said he decided to make the harbour crossing after promising his mother that he would raise money for cancer research and Torbay Hospital, where she was treated before her death.