Tiverton hit-and-run crash: Five injured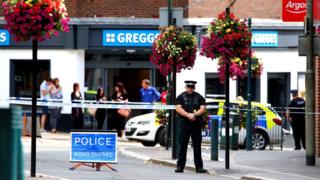 Five men were injured, some seriously, when a car deliberately drove into them in a Devon street, police said.
It happened as two groups of people began arguing in Fore Street, Tiverton, at about 03:00 BST on Sunday.
Police said while officers were at the scene, one group left in a car then returned and drove into members of the other group, then fled the scene.
Two men have been arrested on suspicion of attempted murder. Fore Street is a popular area for pubs and clubs.
A burnt-out blue Honda, which police said was believed to be linked to the incident, was found nearby in Mountbatten Road after local searches.
A 19-year-old man and a 24-year-old man are in police custody.