Drug addict jailed after throwing ammonia in man's eyes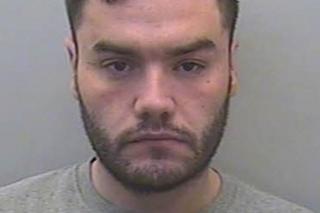 A drug addict has been jailed after he threw ammonia into a man's eyes outside his girlfriend's flat.
Kraig Owens splashed the liquid into Jonathan Gent's face after confronting his partner Kerry Sercombe.
He had the ammonia after using it to "wash" heroin and cocaine and convert them into crack cocaine.
Owens, 28, of Crediton, Devon, admitted causing actual bodily harm and was jailed for two years by Judge David Evans at Exeter Crown Court.
Read more stories from Devon and Cornwall
He told Owens that any offence involving a corrosive liquid had to be met with a jail sentence but accepted that his judgment had been affected by drink and drugs.
"It was a matter of great good fortune, rather than a result of anything you did, that Mr Gent did not suffer long-term physical consequences," he said.
'No permanent damage'
Owens claimed he took the ammonia with him to threaten Mr Gent and his partner, rather than to use it as a weapon.
Prosecution solicitor Mary McCarthy said Owens had been in a brief relationship with Ms Sercombe but was still on good terms with her and her new boyfriend, Mr Gent.
She said that on 26 January, Ms Sercombe had visited Owens but gone home because he was drunk, on drugs and she was worried about his "aggressive state".
They then had an argument on the phone before Owens went to her flat in Exeter with a bottle of ammonia.
The prosecution said he had removed the lid and as Miss Sercombe answered the door, he splashed it into Mr Gent's face, who had moved in between them.
Some went into one eye and some hit Miss Sercombe's hand as she covered her face.
Mr Gent suffered some swelling in his eyes but did not suffer any permanent damage.