Devon and Cornwall detective had relationship with suspect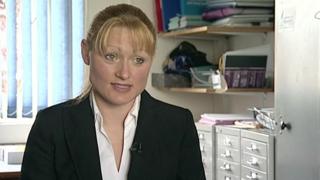 A former police officer had an "intimate" relationship with a man being investigated for drugs offences.
Rachel Short, who was an acting detective sergeant, was based at Tavistock, Devon, during the five month relationship in 2014.
A misconduct hearing found she had breached Devon and Cornwall Police's standards of professional behaviour.
It concluded she would have been "recommended for immediate dismissal" had she not previously resigned.
Ms Short denied having a sexual relationship with on the man on the night his house had been searched by police, but admitted to more than three hundred calls between the pair.
'Wholly unacceptable'
The chair of the hearing, David Sapiacha, said it was clear the relationship between Ms Short and the man had been "close, personal and intimate".
He said she knew her relationship with the man under investigation breached police rules and said "any member of the public knowing of the relationship would find it wholly unacceptable".
Supt Pete Windle said: "DC Short's details will now be submitted to the College of Policing for inclusion on the barred list thereby preventing her from having any role in policing.
"The public rightly sets high expectations of the police and on this occasion the officer's conduct seriously breached this expectation.
"Discreditable conduct and a lack of honesty and integrity will not be tolerated within the Devon and Cornwall Police and it is the aim of a misconduct hearing such as this to protect the public and to maintain the highest of standards and good reputation of what is an honourable profession."