Barnstaple's pink seagull is 'talk of the town'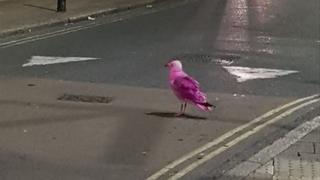 A bright pink seagull has been turning heads in a Devon town.
The colourful bird, which is believed to have been spray painted, has been spotted strutting around Barnstaple over the past two weeks.
Karl Emmitt feared he was hallucinating when he first saw the bird, which he has named Pinky. "It's the talk of the town," the hotel manager said.
The RSPCA said it was "concerned" by the matter and would be working with police to probe Pinky's plight.
Dog walker Kate King said she was shocked by the sight of the "luminous pink" gull.
"I couldn't believe it," she said. "It was just standing there in the middle of all the others. It really stood out.
"I took some pictures but my friends thought I had edited them."
She added that the other birds didn't seem bothered by the gull's colour.
"They didn't seem to mind," she said. "They weren't ignoring him because of it."
Mr Emmitt, who first saw the bird two weeks ago on Boutport Street, said: "I saw it up on the roof and thought: 'Nah that looks pink'.
"Then it came closer and I thought: 'No way it is'."
Mr Emmitt said the town was rife with speculation about how the gull came to be bright pink.
The RSPCA said: "We are concerned to hear reports of gulls in Barnstaple being spray painted and would urge anyone with further information to ring the RSPCA.
"Sadly, gulls do have a tough time of it at this time of year. We would urge people to be tolerant of the wildlife living around them and also to remember that gulls are protected under law."
Devon and Cornwall Police said a report was received on 3 August that a seagull had been sprayed pink.