Plumber tried to con 'soft touch' Lynton nuns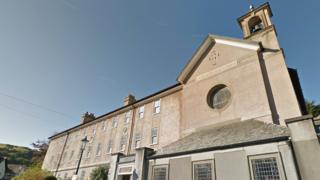 A plumber tried to con nuns by overcharging them for fixing the central heating at their convent.
Gary Henry saw the sisters of The Poor Clares in Lynton, Devon, as a "soft touch", Exeter Crown Court heard.
Henry, aged 57, of Anstey Way, Instow, had just come out of jail for previous frauds when he sent the nuns a bill for more than £10,000.
He admitted fraud and two counts of breaching unfair trading regulations and was fined £8,000
He was jailed for eight months, suspended for 18 months, fined £8,000 with £6,500 costs and £1,362 compensation.
Judge David Evans said: "It may be you chose the church because you thought they were a soft touch.
"All you need to be is honest and to do any work to the standard the public would expect from anyone holding themselves out as a professional."
The court heard that Henry was called out to the nunnery in late 2010 when the central heating failed and he sent a letter chasing up an unpaid invoice after his release from prison in 2016.
'Shoddy work'
Father Keiran Kirby, who handles the nuns' finances, became suspicious and contacted Devon Trading Standards.
The watchdog looked into the case and found out that Henry had overcharged the sisters for materials and VAT.
He also inflated the amount of hours he had worked and the call-out fee.
Mr Alec Small, prosecuting, said that Henry went on to overcharge a pensioner for shoddy work that left her with a broken shower and potentially dangerous drinking water.
Mr Nicolas Gerasimidis, defending, said Henry had been under great financial pressure at the time.
He said Henry has given up plumbing altogether and is working to sort out his finances.